Back to Japanese page > Products of Miyazaki Prefecture > Native Dishes of Miyazaki
Native Dishes of Miyazaki
Chicken Nanban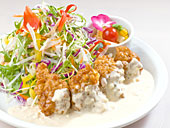 Sweet vinegar is added to fried chicken. It is eaten with tartar sauce and is a specialty dish that originated in Miyazaki prefecture.
Charcoal-Grilled Jidori Chicken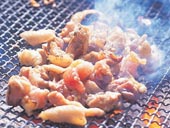 Chickens raised in a natural setting are browned and charcoal- grilled to perfection. A regional specialty with a delicious taste and toughness.
Lettuce Roll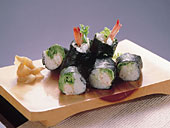 Lettuce, shrimp and mayonnaise are rolled with sushi rice in seaweed to make this specialty which originated in Miyazaki prefecture.
Natural Oysters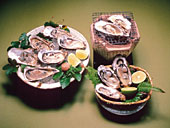 The smell of the seashore surrounds Takanabe's natural oysters. Savor the ocean taste packed into each firm morsel.
Kama-age Udon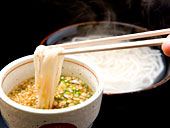 This specialty dish of Miyazaki consists of boiled Japanese-style udon noodles and an accompanying sauce. To eat, add your preferred condiments to the sauce, then dip the freshly cooked udon.
Hiyajiru (Cold Soup)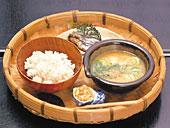 This soup is made with a fish-based broth. Next, miso, various condiments, and tofu are added. In summer, serve with rice for the perfect light meal.