Back to Japanese page > Products of Miyazaki Prefecture > Fish and Seafood Products
Fish and Seafood Products
Katsuo (Bonito)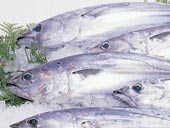 The arrival of spring is marked by the first katsuo which are carried to Miyazaki waters by the Japan Current. The quantity of fresh katsuo caught here is number one in all Japan.
Maguro (Tuna)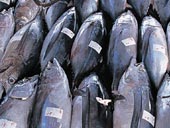 The season for delicious tasting maguro goes from spring to early summer. Kihada and Mebachi are among the types of tuna that can be caught in the waters around Miyazaki.
Unagi (Eel)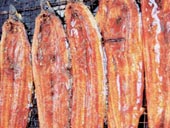 Miyazaki is a leading production area for unagi. The soft and sweet Miyazaki Unagi is a first class delicacy.
Ayu (Sweet Fish)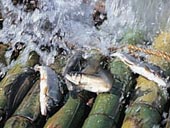 Ayu swim near the rocks in the clean unspoiled waters of Miyazaki's rivers. This top class river fish can only be enjoyed in the fall season.
Takanabe Oysters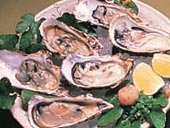 Takanabe's oysters are caught in small amounts because they are taken while diving. It is rare to find such a natural taste.
Yamame Trout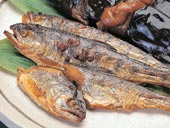 This rare river fish is born in the deep clear waters of the Gokase River.
Tobiuo (Flying Fish)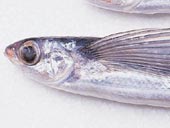 Flying fish have a top quality taste and can be caught from early summer through autumn.
Asahigani (Frog Crob)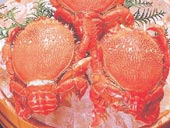 This type of crab is unusual in that it walks forward and backward. Its sweet taste can be savored from the beginning of summer to autumn.
Kibinago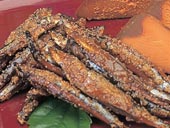 Their beautiful transparent appearance makes this fish a favorite for sashimi. They are also delicious when cooked because you can taste their sweetness even more.
Obiten/Dried Fish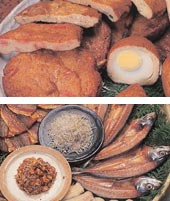 Tofu, black sugar, miso and other ingredients are combined and fried to make this type of fishcake which dates back over 300 years.
Miyazaki's plentiful varieties of fish and seafood are used to make dried fish products in the same manner of sun-drying that was used in olden times.
Chirimen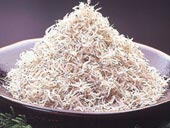 The tiny baby-iwashi fish are cooked with sweet salt and naturally dried in the sunlight to make this specialty food.