Back to Japanese page > Products of Miyazaki Prefecture > Varieties of Sweets
Varieties of Sweets
Shiratama manju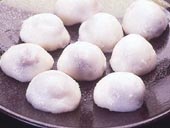 (Japanese traditional sweets)
These cute bite-sized manju have been made since the Edo period.
Aoshima Uiro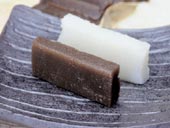 Rice flour, white sugar, and black sugar are used to make this favorite sweet of Miyazaki.
Nagamanju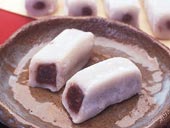 (Japanese traditional sweets)
Everyone loves the simple delicious taste of these treats made from rice flour and azuki bean powder.
Cheese Manju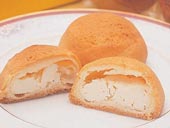 When the outside taste of a cookie exquisitely entangles with the taste of cheese inside, what you get is a melt-in-your-mouth delicious sensation.
Hyuga Natsu Pudding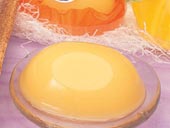 The refreshing taste of Hyuga Natsu oranges in a pudding. Its even more delicious when chilled.
Guava, Passion Fruit and Mango Juice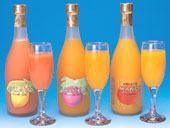 Juice made from fresh guava, mango and passion fruit with no additives or agricultural chemicals.
Nerikuri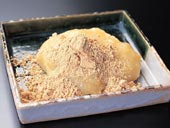 Mochi rice, potato, and sugar are kneaded together into a texture which resembles a soft and slightly sticky dough. Pieces are then rolled in kinako (soybean flour) to make this distinctive old-style country snack.
Kujira Yokan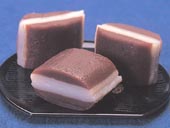 The origins of this version of traditional Japanese style sweet bean jelly date back to the Edo period. Kujira Yokan was made to mark the occasion of the birth of a son to a feudal lord.