Back to Japanese page > Products of Miyazaki Prefecture > Varieties of Alcohol
Varieties of Alcohol
Miyazaki Shochu
Shochu distilleries put the utmost care into the making of various types of fine shochu. Many are recognized as top class both within and outside Japan.
Wine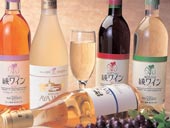 Grapes produced regionally and in other parts of Japan are used to make wine which comes alive with its full fresh fragrance and taste.
Processed Alcohol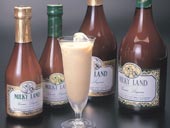 Cheese whey is fermented with alcohol, blended with fresh cream and brandy or rum to make a cream liqueur.
Local Beer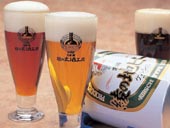 The harmony of world-wide first class hops and Miyazaki springs make this beer fragrant and full-bodied. The taste is exquisite with a sharp cut to each sip.