Introducing Miyazaki
Number one production

volume of radish for processing!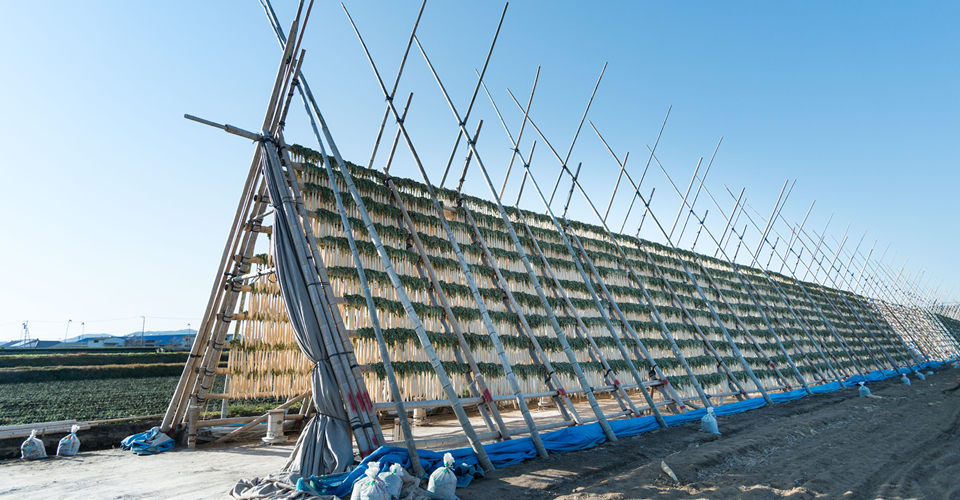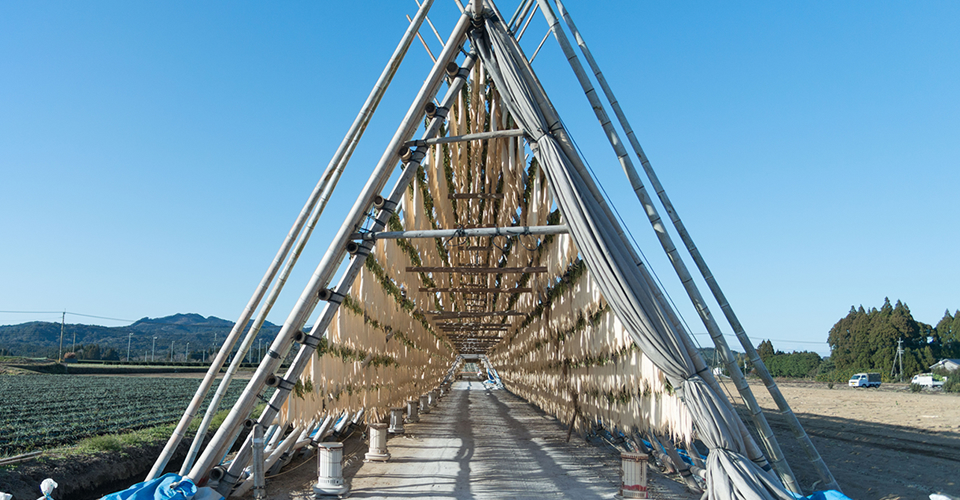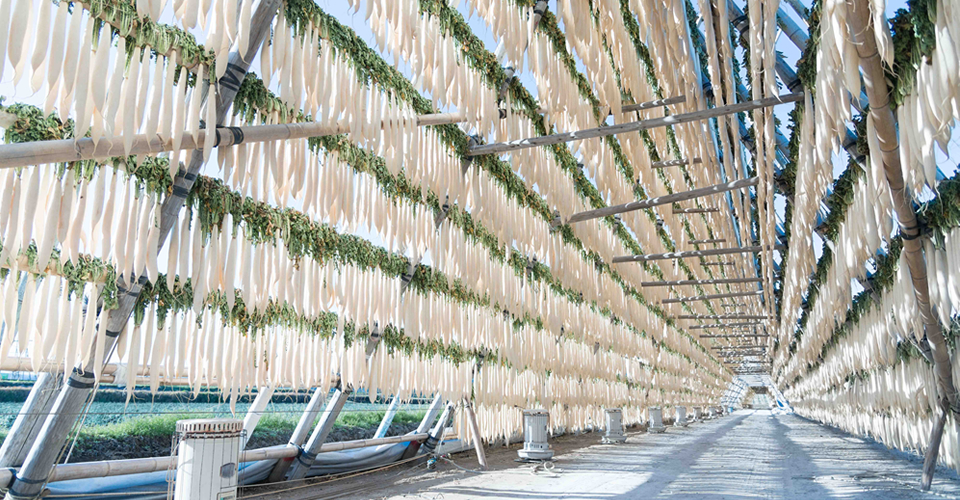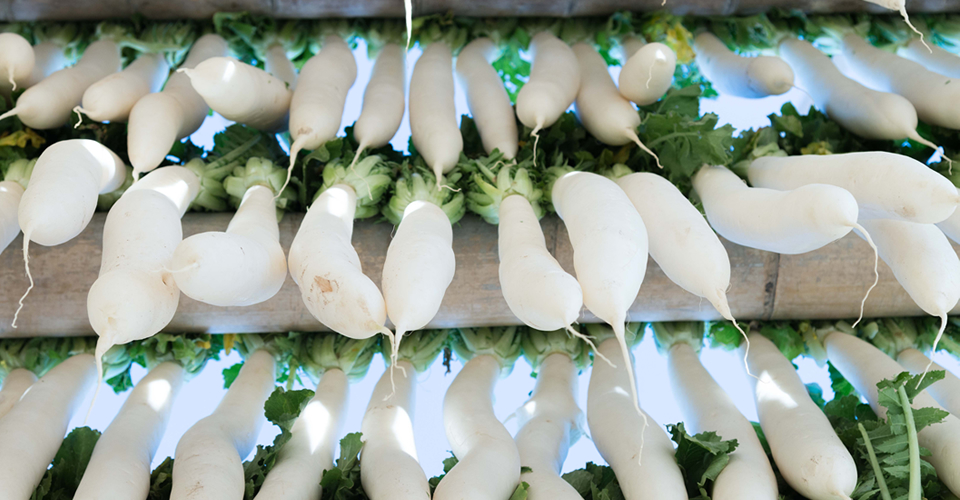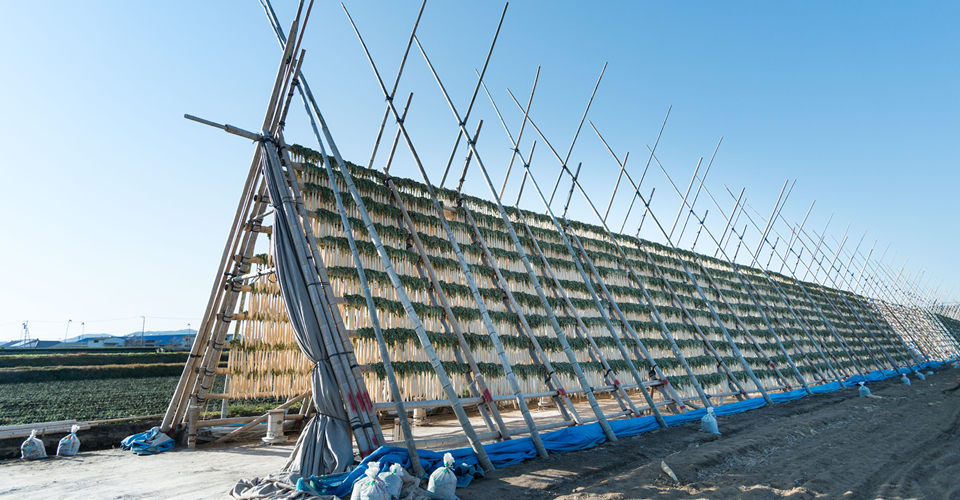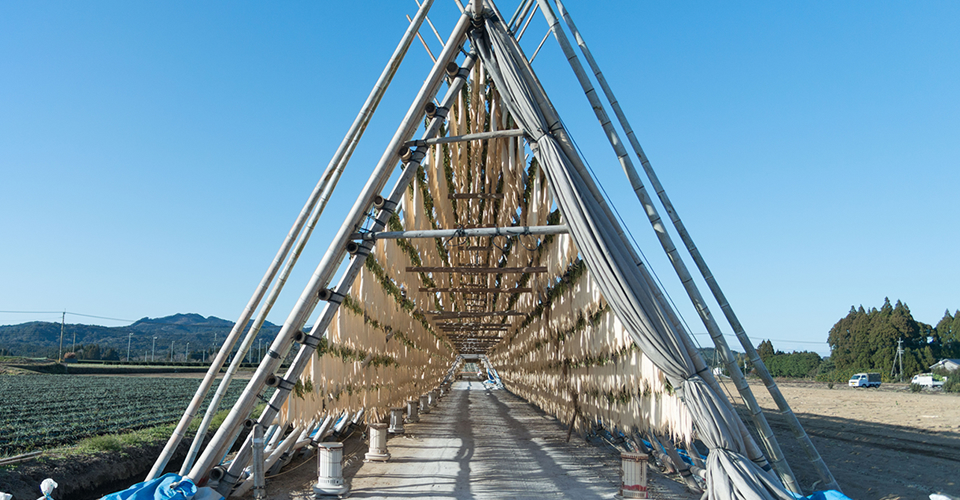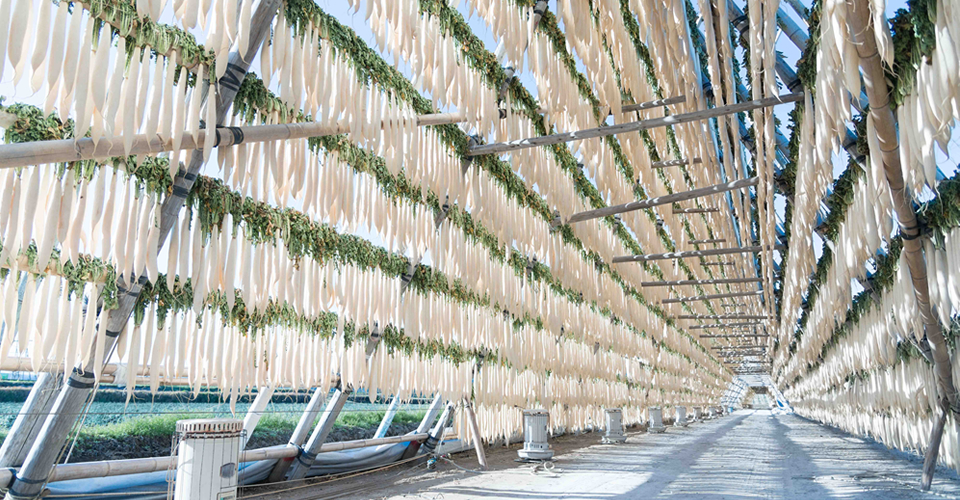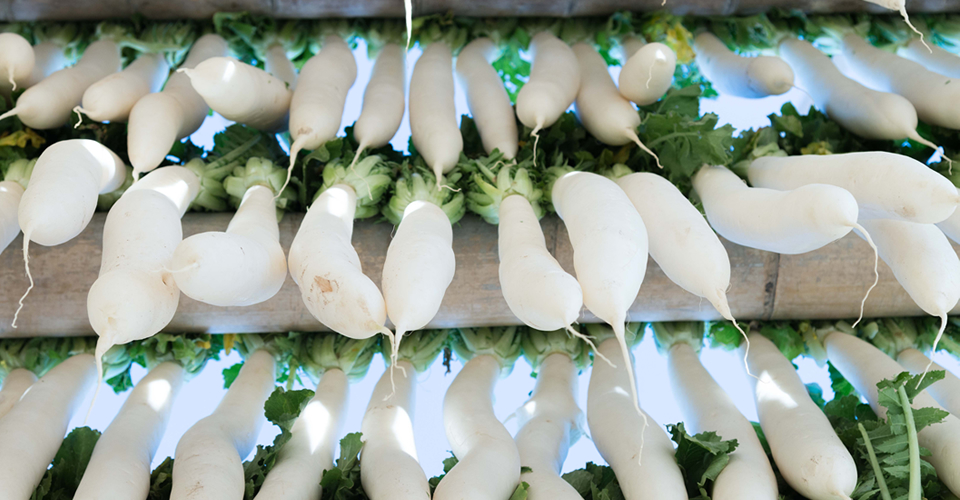 Introducing delicious

local ingredients

Miyazaki's seasonal sights "Daikon Yagura"
Every year from November to February, cold wind called "Kirishima Oroshi" or "Wanitsuka Oroshi" descends from the Kyushu mountain range towering over central Kyushu, and you will see a curtain of long white dried radish along side highways that run in all directions near Miyazaki IC. In Miyazaki, these radish hanging towers are called "Daikon Yagura", and the dried radish will be used to make pickled radish. After harvest the radish is cleaned and carefully hung on yagura (scaffold) one by one so that they will dry evenly in the sun and the wind. Some "Daikon Yagura" is so big it may reach 5m in height and 100m in length, making it a signature scenery in the winter in the southern Kyushu area.
Miyazaki is a top radish grower in Japan, and the climate has sided with us to enable popular production of radish used for processing.

Cream color is a sign of nutrition
"Dried radish strips" sold at grocery stores known to have "approx. 23 times more calcium than raw radish", "approx. 14 times more potassium than raw radish", and "approx. 16 times more fiber than raw radish", is a signature product from Miyazaki and we have far and away number one share in the nation. By absorbing plenty of sun and dried by the cold wind, radish turns sweet, or saccharifies, and its natural nutrients are concentrated. Dried radish strips are very nutritional, and they are made from "Aokubi Daikon" often found at grocery stores unlike radish used for pickles. The reason for the cream color of dried radish strips is due to the saccharification of its flavor and a is a sign of high nutrition content. Recent advancement in drying technology has enabled pure white dried radish strips to be offered as luxury ingredients, which are shipped to restaurants in the metropolitan areas.
Pickled radish and dried radish strips are both grown widely in the Miyazaki plains stretching from the foot of the Kyushu mountain range to the vast Pacific Ocean. Cold wind blows from the mountain to the sea in mid winter, which makes a perfect environment for drying. Furthermore, the plains is not covered by snow in even in mid winter, and only receives some frost in the mountains. In addition to riches of the mountain and riches of the sea, Miyazaki is blessed by the climate to be able to offer rich agricultural resources, and we have diligently and carefully succeeded old styles and methods to keep traditions and cultures alive, along with our core agricultural, livestock, and fisheries industries. Unfortunately, "the good old" ways do not satisfy in this day and age where lifestyles and tastes change rapidly. Many try to survive strive with flexible style and new technology so they are not washed away by the pace of the times and exhausted by price wars.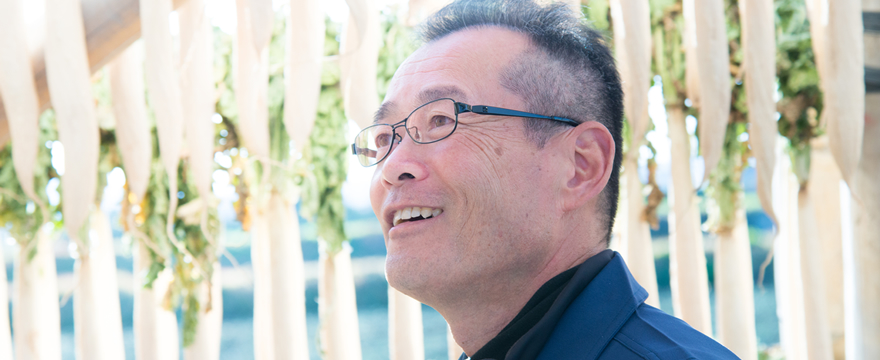 Interview

Miyazaki Dried Takuan Radish and Pickles Workshop Director

Miyazaki Pickles Cooperative Association Director

Mr. Hideyuki Michimoto
-

How we can protect industry that is rooted in the community.

That is our mission

-

With a gleaming sharp look, President Michimoto speaks passionately about the appeal of "safe product making". He is a third generation president of a local food company and also a die-hard Hiroshima Carp fan! The first president settle in Miyazaki from Hiroshima, and the current third president has succeeded the fearless frontier spirit and the red hot Carp soul.

President Michimoto serves as the director of "Dried Takuan Radish and Pickles Workshop that is formed by 11 related companies in the prefecture, and meets 3 to 4 times a year to exchange technical information. Workshop members have opened doors and welcome visitors to their factory. Rather than treating each other as "rival firms", we have joined hands to "create amazing products together before competing" and "escape from the world of price wars" in hopes of bettering the industry. We are one of the innovative organizations promoting better "product making in Miyazaki".