Flowers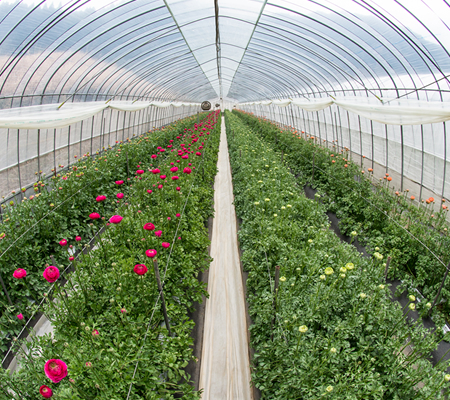 Flower production using temperature difference between night and day
As the now popular phrase "Kyushun Tourai (Ball game season is here)" depicts, Miyazaki is a common camp ground for professional baseball and soccer teams as well as national Rugby players and pro golf players from late January to March thanks to its warm winters.
The relatively warm winters with abundant sunlight met with the temperature difference in the mountainous region makes for a perfect place for "Hanaki - Growing Flowers". Miyazaki is a top grower of "Sweet peas", "Ranunculus", and "Western Orchids". The Miyazaki Agricultural Research Institute is widely acclaimed in and out of the country for its success in developing flowers with beautiful colors and ease of growth.
Sweet peas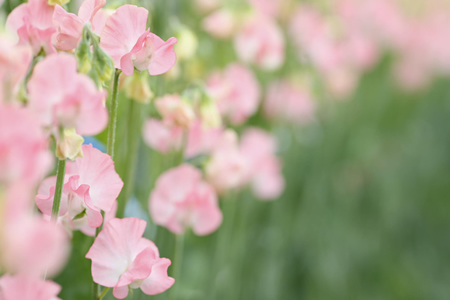 Largest production in Japan
Sweet peas are mostly grown in the warm southern coast of Miyazaki. Soft-colored sweet peas had once been popular and now various vibrant and aromatic "Miyazaki brand" sweet peas have become popular thanks to multiple breeding trials. In addition to flower quality, the institute is developing long-lasting types for exporting out to North America, Hong Kong, Taiwan, Singapore and EU nations.
Rananculus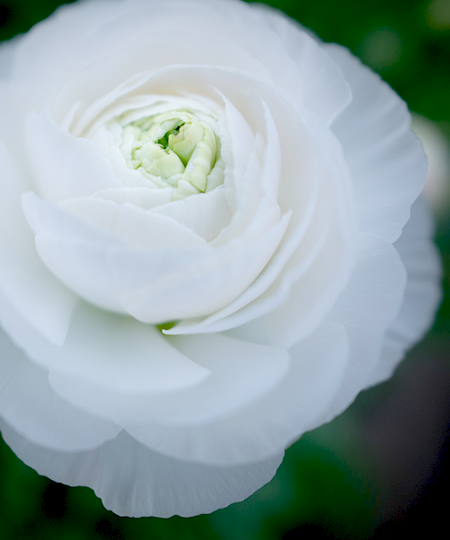 Multiple layered-petals of flowering beauty
We are proud to be second in production and number one in growth area in the nation (2014) for rananculus growth which are mostly found in cooler northern mountainous regions. This area had mainly grown chrysanthemums, however, due to decreasing demands for chrysanthemums for mourning ceremonies the area has welcomed rananculus that may be grown with the same technology and climate from Shinshu, mid Japan, around 2000. Rananculus growth has spread in the last 15 years by small farm owners sharing their technologies to slowly increase production. Many beautiful flowers bloom every year.
Its stem must grow steady and strong in order to support its big corolla, so the flowers called "hanakagi" that grow from the middle of the stem are handpicked one by one to allow one flower to blossom from one bulb. "Diligent and careful handwork" and "Meticulous temperature control" is key to flower growth.
Rananculus comes in about 50 different colors and petal shapes, and Miyazaki original types are a beauty to adore.
This flower is long lasting and is already exported by air as an alternative to roses. It is now very popular that there' even a shortage in North America and Hong Kong.