A new sensation

- shiny citrus Bite into a

refreshing sweetness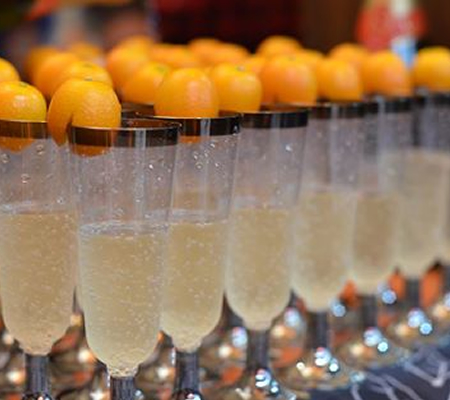 A pop fruit tree that will make you dance "Miyazaki Brand" enjoyed as a whole
"Ripe Kumquat Tamatama" celebrates its annual release at the "Kumquat Nouveau" every January, where the kumquat is dropped in a sparkling wine like champagne and people enjoy the "Tama champagne" in their hand. Local fans rave about this Miyazaki ripe kumquat, which is only shipped from mid-January to mid-March and is characteristic of its soft and thin skin, high sugar sugar content, and enjoyed as a whole without peeling off the skin. Kumquat's unique bitterness is down to the minimum, rather filling the mouth with a refreshing sour taste and sweetness. It is one of the main fruits representing the "Miyazaki Brand".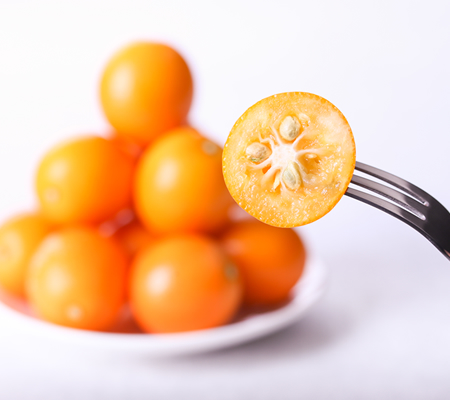 Specially-selected kumquat elites "Tamatama"/"Tamatama Excellent"
Some ripe kumquats in Miyazaki are treated as a brand, and the certification standard is prescribed as "a fruit that is fully riped on the tree inside a greenhouse for at least 210 days from full bloom, and is excellent in taste and appearance". In addition, the fruit must be grown to be enjoyed in its raw form, not for processing such as kanroni (candied fruits and vegetables). Kumquats that are at least 16 in sugar content and at least 2.8cm in diameter are called "Tamatama" , and kumquats that are at least 18 in sugar content and 3.2cm in diameter are called "Tamatama Excellent" . The name "Tamatama" was named by Elementary School students in Miyazaki through a survey.
Gorgeous, lavish piece that feels healthy.
Miyazaki's "ripe kumquat" that may be enjoyed with the skin on is grown outdoors and inside a greenhouse. Its production is number one in Japan (2,572 tons annually) and dominates 69% of the domestic share (2013) in Japan. Reasons why Miyazaki is great for growing kumquats not only for processing jam and kanroni, but sweet excellent kumquats that may be enjoyed raw is thanks to the warm climate and blessings of the abundant sunshine, and is grown all over the prefecture.
Due to is beautiful golden appearance, kumquat is now exported as a talisman to Chinese regions during the Chinese New Year. Unfortunately, kumquat is not yet widely known to be enjoyed as food, and we plan on campaigning its taste.
The shipment of Miyazaki's ripe kumquat that is sweet and big are limited to mid-January to mid-March, and the carefully-grown fruit is popular as a gift. Miyazaki's kumquat is called a blissful fruit because it contains nutritions great for health and beauty such as vitamins and flavonoids. There is no need for heating or peeling—Please add to dressings and salads or however you like. You can always enjoy it raw as is, and be filled with joy. Please take delight in the taste of Miyazaki sun.