Tropical fruit with rich, juicy,
sweet drops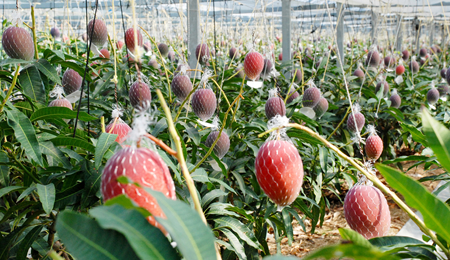 The ultimate mango harvested with Miyazaki's original methods
With a peak harvest between April and August, Miyazaki's mango is a ruby red "apple mango" that is a type of "irwin" mangoes which is different from the yellow "pelican mango" widely grown in Southeast Asia. Miyazaki's mangoes are shipped all over Japan, and their production volume is second in Japan after Okinawa, and only those that have passed strict standards are distributed on the market.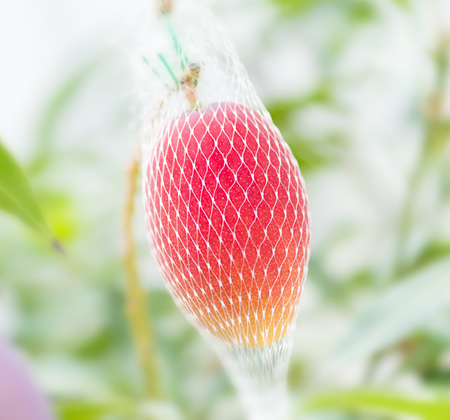 Shipping mangoes of the best grade
Each and every mango shipped from producers are checked for their size, weight, shape, color, and sugar content. Miyazaki's mangoes are shipped when they are fully ripened, so they are very delicate. They are carefully wrapped one by one before being shipped out to the market and retailers. Rich and juicy Miyazaki mangoes are only shipped at their peak "ripeness", thanks to the "net harvesting" method established by Miyazaki's research and development. Net harvesting aims to obtain the best fruit out of 2 to 3 branches by picking the rest and carefully netting the best fruit before harvest, and wait for it to naturally drop without cutting it off.
Only the mango that is over 15 in sugar content, at least 350g, beautiful red, and unscratched are honored the best brand "Taiyo no Tamago" and shelved at stores.
Great for beauty and health!
Not only mangoes are packed with deliciousness, it is also an antioxidant and contains nutrition such as beta-carotene and folic acid great for women that help with tired eyes and helps prevent reduced vision.
Miyazaki offers many varieties of sweets, juice, and processed products using this delicious mango. Diligently produced in the warm climate, the tropical fruit is packed with sweetness and unique robust aroma. Miyazaki's delicious processed products are offered with added tropical flavor and fruity taste.