Delicious safe
log-grown shiitake

from

Miyazaki
Great growing environment and creativity of the producers
Miyazaki has everything needed to grow shiitake mushrooms on logs - "oak", "clean water", "temperature difference between day and night", "one of the longest hours of sun in the nation"- so we can offer thick and aromatic shiitake. No pesticides are used during the 2 years required to grow and harvest log-grown shiitake. In order to secure safety and credibility, Miyazaki-grown dried shiitake traceability council is operating a system to track all history from farm to table.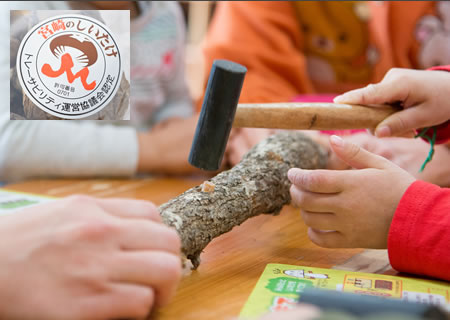 "Dietary education" for the next generation
- Taking measures to increase consumption -
Although dried shiitake had long been a kitchen staple, increasingly popular western eating habits and changing lifestyles has contributed to a decrease in shiitake consumption. We want to have more people enjoy Miyazaki's shiitake. So we host workshops for mothers and lectures on cultivation and nutrition for children, as well as inoculation experiences to spread dietary education.
Popular shiitake brings out flavor in your dishes
We also started exporting our shiitake overseas. Taiwan and Hong Kong already has a dried-shiitake and stock culture, and Miyazaki's dried shiitake is prized for their rich flavor and safety. We are currently working on expanding our export to Europe.
Shiitake increases its nutritional value by drying. For all to enjoy this wonderful ingredient daily, the government is also on board in creating products and developing recipes that suit modern life styles, and Miyazaki Local Products and Trade Promotion Center's online store offers a variety of processed shiitake products.