Healthy vegetable

that is

mildly sweet

with a silky texture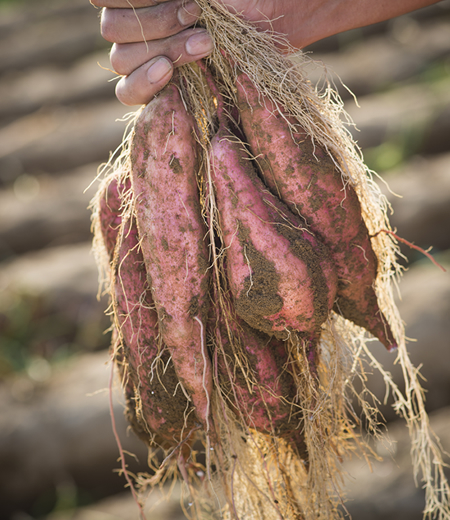 Popular for its sweet and heartful texture
Number 4 production in the nation
Miyazaki is one of the Japan's top producers of sweet potato, a vegetable that is mildly sweet and has a heart-warming texture. The original brand "Miyazaki Beni" is the major type of sweet potato produced in Miyazaki. With a vibrant crimson-colored skin and cream-colored flesh, "Miyazaki Beni" is mild and sweet when heated through similar to that of sweet-roasted chestnuts. People in and out of Japan love to enjoy it even as a snack.
It is great steamed, grilled, or fried. So add it to soups and salads for a mildly sweet addition to your dish. Sweet potatp is also highly nutritious. It is high in fiber and will activate your intestinal system, and a white sticky substance "jalapin" that can be found when sliced, will help with digestion and help regulate your intestinal environment. Since its antioxidative vitamin C and antioxidative carotenoid are not lost by heating the sweet potato, experts say it is good for health and beauty.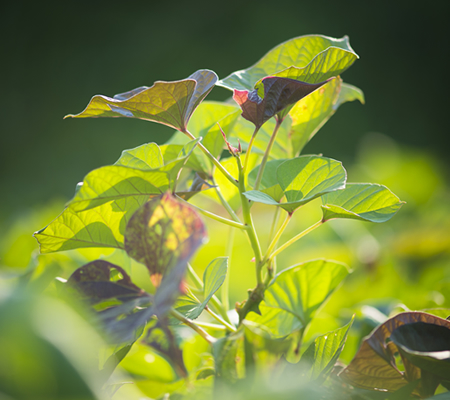 Early harvest thanks to its mild climate
On top of the warm climate, in order to harvest quality and highly nutritious "sweet potato", the local JA and farmers collaborate and give untiring efforts in caring for the "soil", "nursery", and "potato". In Kushima area, a major "sweet potato" growing city in southern Miyazaki", its JA diligently works to grow a healthy nursery without any virus infections. The community has teamed up to create detailed regulations regarding washing, selecting, and packing before shipping to establish a strong brand.
"Sweet potato" is normally harvested in the fall, but it is also harvested in the spring and early summer in Miyazaki thanks to the warm climate. It may be stored and shipped out in the winter to spring, and a year-round consistent supply of high quality "sweet potato" contributes to maintaining and improving product value.
"Sweet potato" is proud to boast the number one export amount for an agricultural product in Miyazaki
The high quality sweet potato with shelf stability can also be called the "top export of Miyazaki", being exported out to East Asia including Hong Kong, Taiwan, Singapore. Its export volume and amount is on the increase every year. Smaller sizes that may be cooked in rice cookers are popular especially in Hong Kong, and we are seeing results of over 10 years of sweet potato promotion from Miyazaki. We will go beyond borders of Asia and introduce this exceptionally delicious Miyazaki brand to the world.