Blessing in the Hyuganada

from the

bounty

and

love of the Pacific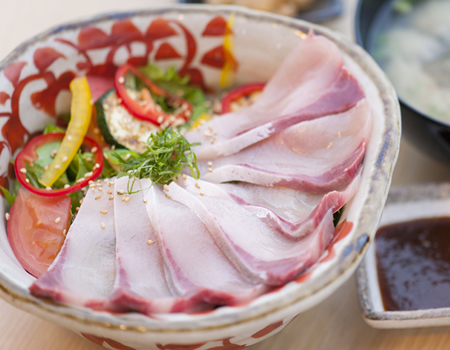 Fatty and delicious yellowtail is shipped year round
Miyazaki boasts as the leading producer of "Miyazaki yellowtail" in Japan, including "winter yellowtail" or "wild yellowtail" caught with fixed netting during cold seasons and "farmed yellowtail" raised mostly in Nobeoka and Kushima are both designated as Miyazaki's "winter fish".
Some farmed yellowtail may be enjoyed year round, and they are sold not only in Japan but we have taken advanced measures to clear international sanitary standards and be HACCP-certified in the US and EU and are now sold in East Asia and Europe. In addition, we use our original method at the time of shipment so that customers worldwide may enjoy the freshness and taste enjoyed here in Japan.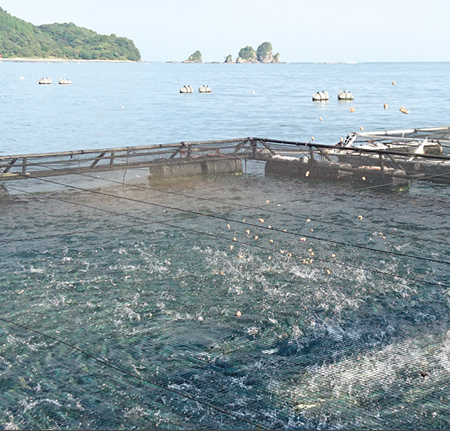 Rich and resourceful Pacific Ocean
The wild ocean raises fish
Our farmed yellowtail swim in the vast Pacific Ocean east of Miyazaki. This coast known as "Hyuganada" is a passageway of the rich black Kuroshio current where large numbers of yellowtail larva "MOJAKO" swim in.
Our yellowtail farm cares for the environment and along with thorough rearing management for quality maintenance we are able to produce lean, good quality yellowtail with just the right amount of fat.
Consistent production is a battle with nature. Is the ocean (fishing ground) clean? How is the water temperature? How is the fish health? Is there too many fish in the raft? Our producers are facing the ocean to achieve consistent shipment. We also have public administration supporting reconstruction of prefectural aquaculture industry and we have officers from Miyazaki Fisheries Experimental Station regularly visit the farm.
"Yellowtail shabushabu hot pot" is hot!
Yellowtail is enjoyed as a sashimi in its raw form and also in delicious "yellowtail hotpot" . First, lightly grill the fish head and bones known as the offal to make stock. Quickly dip in yellowtail sashimi in the clear soup and you'll get a sumptuous meal. Add white rice at the end to make porridge for a delightful end to your meal.
There are many restaurants offering "Miyazaki yellowtail". We hope people from in and out of Miyazaki experience the local flavors we all have to offer.