Back to Japanese page > Products of Miyazaki Prefecture > Livestock Products
Livestock Products
Miyazaki Hamayu Pork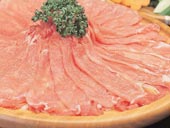 It took ten years to develop this special line of top class highgrade quality pork.
Miyazaki Beef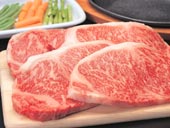 In addition to being a pride of Miyazaki, this quality livestock is also exported overseas.
Ham Sausage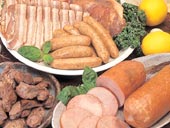 Professional techniques honed over the years in Miyazaki make use of all local ingredients to produce this specialty "brand item".
Inoshishi Niku (Wild Boar)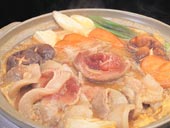 It is said that eating inoshishi niku warms up the body. It is especially recommended in winter as the main ingredient of Japanese "nabe", or hot-pot style cooking. You can order this dish by its familiar name of "Shishi-Nabe".
Miyazaki Jidori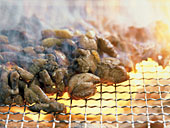 (native type of chicken)
The delicious taste and distinctive toughness of local chickens bred in the midst of nature make Miyazaki
Jidori a unique delicacy.