Back to Japanese page > Products of Miyazaki Prefecture > Traditional Entertainment
Traditional Entertainment
Usu Daiko Odori (Saito-shi)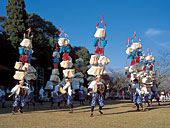 A drum which resembles an usu (a mortar used from olden times for pounding rice) is carried on its side, and three different colored flags rise from a pole on the back of the dancer whose movements depict bravery. This tradition is said to have originated from the times of Toyotomi Hideyoshi.
Yokagura (Takachiho-cho)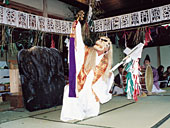 These sacred night dances take place in late fall from November untill the end of February. They go throughout the afternoon and evening, and a total off 33 dances are included in Takachiho's evening Kagura. This tradition has become an Important Intangible Folkloric Cultural Asset in Japan.
Yagorodon (Yamanokuchi-cho)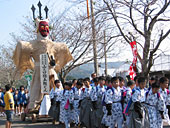 A legend about a giant passed down from the southern part of Kyushu forms the story line for this festival, in which dancers wear a red mask and white hemp kimono. This festival was selected for designation as an Intangible Folkloric Cultural Asset by Japan's Ministry of Culture.
Taihei Odori (Nichinan-shi)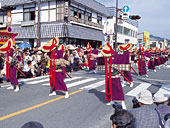 This tradition recollects the old-style festivities centering around Obi castle. The peaceful dance of a heroic samurai who exemplifies bravery and dignity will transport viewers back to a time long ago in the far and distant past.
Miyazaki Jingu Taisai (Miyazaki-shi)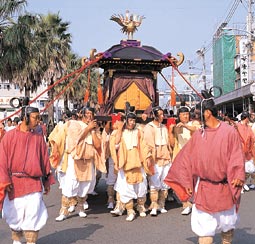 This honorific procession commemorates the enshrinement of the first emperor at Miyazaki Jingu. During this old style elegant parade, said to be the honeymoon travel of common people long ago, the figure of the bride in the midst of horses coming down the road with the sound of bells ringing called forth popularity.