30 years of research and passion

now soars out

to the world
Classic methods make the best taste
The famous luxury ingredient caviar now has a Japan-made version "Miyazaki authentic matured caviar" marking a new phase. To learn about the 30 years of creating a world-class representing Japan from 1983, please refer to "Making of Japanese Caviar" in "Introducing Miyazaki".
The biggest characteristics of Miyazaki caviar are the "thick, deep flavor" and "mild sodium". Caviar that is distributed internationally are pasteurized around 60 degrees and added with 5 to 7% sodium to extend its expiration date. On the other hand, Miyazaki caviar removes sturgeon eggs and processes it without heating, nor additives or preservatives. We have only slightly added rock salt to enjoy the natural caviar flavor. We took hint from the traditional maturation method in Europe to "let it sleep well", and stops maturation at its peak deliciousness. This method allows the caviar to lightly melt in the mouth so that one can enjoy the rich and creamy taste. The robust aroma will pass through the nose and leave you with lingering flavors. Since it is unheated, the glossy dark brown is ever shinier, and it is gorgeous to eyes and tongues.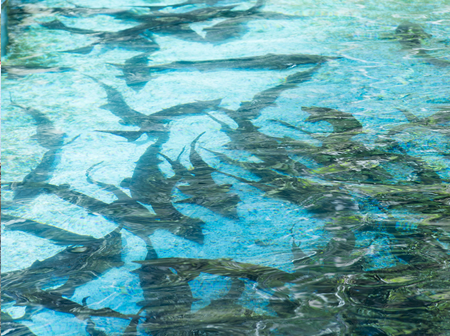 State of the art traceability system
Miyazaki caviar is managed individually from the stage of breeding sturgeons, which are all raised and processed in Miyazaki. Only the very best caviar is shipped after a tasting test for all lots before shipment. They are shipped frozen with a best-by-date of 90 days from shipping. Caviar is easily oxidized after opening, so it is best enjoyed within one week.
It is presently sold in department stores and hotels in Miyazaki and department stores in Tokyo, as well as online. Every year on November 22nd, the popular caviar is sold by reservation and sells out after a few days.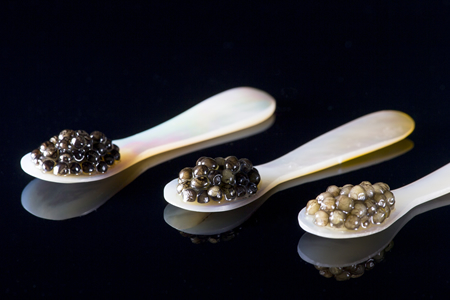 Recommended ways to enjoy
Miyazaki caviar has a solid taste, so please enjoy small portions with your favorite drink. We don't recommend eating with crackers or baguettes as Miyazaki caviar is low in sodium compared with caviar made overseas. The melt-in-your-mouth texture has attracted fans around the world, and it has been exported overseas from March 2017.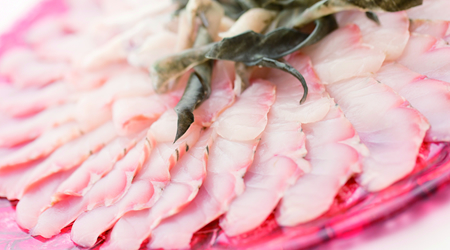 Sturgeon dishes
We ship sturgeon meat along with their eggs. The meat quality has established reputation, and the purely white flesh like that of puffer fish is smooth, with a well balance of fat that is rich. It may be enjoyed in Japanese, Western, and Chinese cuisine. Increasing restaurants and stores are offering sturgeon sashimi and dishes and we look forward to a wide development of this caviar as a luxury ingredient.